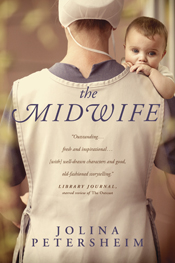 I received a free paperback copy of
"The Midwife"
by Jolina Petersheim in order for me to read and review it for
Tyndaleblognetwork.
I have read both of Jolina's books and enjoyed them both. It takes some getting used to her style of writing where you switch from the viewpoint of different characters in the book. 'The Midwife" follows Beth Winslow in the mid 1990's and Rhoda in 2014.
Beth agrees to be a gestational surrogate for her graduate adviser and his wife. But when there are problems, the parents decide that if the baby isn't "normal" they want to end the pregnancy. Beth "kidnaps" the baby still in her womb and flees to the Dry Creek Community of Old Order Mennonites. She hopes she can start a new life and find someone to love that won't abandon her like her mother had done.
Rhoda resists help from the outside world fearing that with it her past will come to light and shatter the life she has built for herself as head midwife for Hopen Haus in the Dry Creek Community. When her past finds her, will she be able to come to grips with those who've abandoned her and those she's abandoned? Will she be able to trust God to lead her through so she can find her Hope?
The book is set in an Old Order Mennonite Community mostly. Since Hopen Haus is a home for unwed mothers, there has obviously been some past "indiscretion's", although there isn't much elaboration on them. It shows that any person (even "Plain" ones) can fail.
I had a hard time putting the book down and found myself skimming over the words to see what was going to happen sooner. But I didn't want to miss anything, so I'd slow down and read it all! The prologue confused me until I was quite a ways into the the book. I think it would be better to not be there personally.
One time in the book one of the girls has an infection and someone asks if they gave her penicillin. They reply that she is allergic to penicillin so they gave her amoxicillin instead. Being allergic to penicillin myself, I was told that it didn't matter which one it was if it was in the same family, so they couldn't give her amoxicillin, either. I don't think it took away from the story, it was just an observation I had.
I would recommend" The Midwife" to those who enjoy Inspirational or Mennonite/Amish romances. The romance isn't the main story line, but it is there at the end.
You can buy a
paperback version
of "The Midwife" on Amazon.com for $11.10 or in
Kindle format
for $9.99.
File Size: 2037 KB
Print Length: 400 pages
Publisher: Tyndale House Publishers, Inc. (May 16, 2014)
Language: English
ISBN-10: 1414379358
ISBN-13: 978-1414379357
ASIN: B00GWT9F36