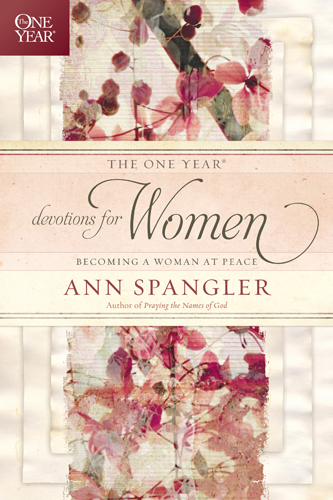 I was eager to review "The One Year devotions for Women: Becoming a Woman at Peace" by Ann Spangler as my oldest daughter uses a "One Year Devotion" book for her nightly quiet time. I really liked the idea of having a short devotion geared for women every day of the year. They are short so they don't take long to read and are easy to fit into your schedule. The readings include a Bible verse and a prayer. It was interesting to read about events that took place in my area used as examples for the daily readings as I am from the same area as the author!
For the most part, I thought that the devotions were helpful and useful to me. I was sort of perplexed, though, when there was a whole day devoted to Seasonal Affective Disorder! The only Biblical part about it was the verse and the prayer! It kind of threw me as to why it was included. I have only used this devotional for about 2 months, so I'm not familiar with all the topics covered.
The list price for "The One Year devotions for Women" is $15.99. I found it online ranging in price from
$4.48
to
$10.66
to
$13.15
.
ISBN:
978-1-4143-3602-2
Trim Size:
6 x 9
Binding:
Softcover
Release:
September 2012
I received a free copy of this book from Tyndale Blog Network in exchange for my honest review. I did not get any other form of compensation.